To satisfy the market demands for deboners, Sunby extended our factory to more than 10,000 square metera and increased investment to 53 million RMB as we imported over 30 pieces of numerical control processing equipment. The Sunby plant is outfitted with a numerical control production workshop and assembly and adjustment workshop, independently completing the deboner and fitting production, assembly, and adjustment.
Numerical control workshop
The accuracy rate of deboner fittings will influence the operation stability, so heavy machineries are installed in this workshop, such as computerized numerical control(CNC) horizontal lathes, CNC milling machines, CNC boring machines, CNC gantry machining centers, etc., These machines allow us to realize a higher rate of accuracy on fitting production. The numerical control workshop is the central part of producing fittings with high precision, guaranteeing high-quality assembly.
Assemble and adjustment workshop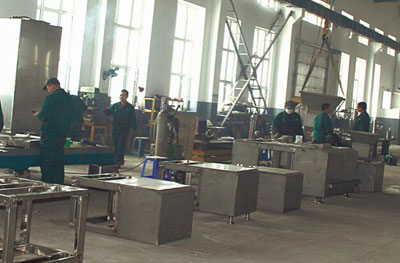 We have a team of professional workers who assemble our equipment. These workers will strictly inspect the space between fittings, ensuring stability. After the equipment is assembled, our team will debug the equipment, spending 1.5 hours on each completed machine.
During the debugging, bone residue containing rate and minced meat fibers will be checked. We will double check the equipment to meet customer requirements.
Package
After the equipment has been determined to reach the quality standards, we will carefully pack the equipment. The equipment will be wrapped by stretch film first to protect it and then packed in a wooden box and put on a tray, awaiting delivery.