Meat Deboning Equipment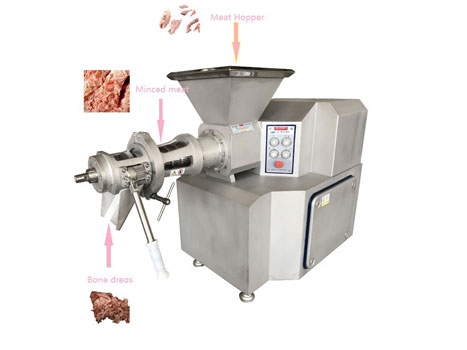 Sunby's deboner is designed specifically to debone meats from raw poultry, such as chickens, turkeys, ducks, geese, rabbits, or beef shanks, lamb trimmings, and fish fillets.
Bone-in raw materials to be minced are pushed inside for processing using the screw extrusion. The firmness difference between the meat and bones that results from this, causes the soft meat to extrude through the screen. Crushed bones that are difficult to extrude through the screen are discharged through the bottom. Sunby's meat-bone separator features an exceptionally high efficiency, depending on your raw materials.
Minced meat processed using a deboner can be further processed into structured meat, deboned products, desinewed products, ground products, whole muscle products, and more. Crushed bones can be processed into bone meal or pet feed through a bone extraction process, and deboning machines are great for increasing additional value of raw materials with bones, which maximizes economic value.
Sunby offers 5 different deboners, ranging from 300 to 4,000 kg/h, ensuring we can match your needs for raw materials and product inquiry.